Asclepius
(Aesclepius, Asklepios, Aesculapius)
Asclepius was the most important among the Greek gods and heroes who were associated with health and curing disease.

Mythology
Asclepius was the son of Apollo and the nymph Coronis, a princess of Thessaly. Apollo entrusted his son's education to the centaur Chiron, famous for his knowledge of archery, medicine, music and prophesy, who taught Asclepius the art of healing. Asclepius became so skilled in surgery and the use of medicinal plants that he could even restore the dead to life. Hades, ruler of the dead, became angered at this and complained to Zeus, who, fearing that he might render all men immortal, killed Asclepius with a thunderbolt (although some say Asclepius was made immortal). Among the children of Asclepius the best known are his daughters Hygeia (health) and Panacea (all-healing).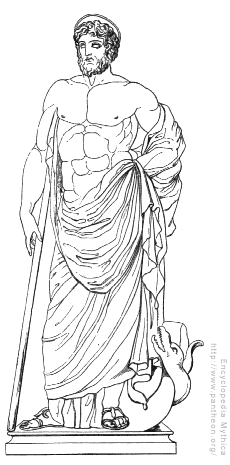 Image Copyright (c) 2000 Encyclopedia Mythica. All rights reserved.
Cult
A deified mortal, Asclepius was not worshipped as a god until the fifth century BC, when he took over the role of the god of healing from his father Apollo. Shrines and temples of healing known as Asclepieia were erected throughout Greece where the sick would come to worship and seek cures. Snakes, symbols of rejuvenation (since the snake changes its skin), were important in his worship, and were kept in the Asclepieia. Asclepius himself was thought to sometimes appear in the form of a snake and patients who saw snakes in their dreams believed that he had come to their aid.
The Staff of Asclepius
Asclepius was generally depicted as a bearded man wearing a robe that leaves his chest uncovered. Images of Asclepius are recognisible his prime attribute, the snake, usually coiled around a staff. The staff of Asclepius with coiled serpent is the traditional symbol of medicine. However, in modern times, the caduceus (showing twin snakes around a staff with two wings at the top), has also been used to represent medicine. In Greek (Roman) mythology, the caduceus was the staff of Hermes (Mercury), the god of commerce, eloquence, invention, travel, and theft, and so was a symbol of heralds and commerce, not medicine.
The Hippocratic Oath
The famous Hippocratic Oath, sworn by medical doctors for two thousand years, begins with an invocation to Apollo the physician, Asclepius, Hygieia, Panacea and "the other gods and goddesses."
---